Salt soap for gentle cleaning and intensive care
Based on a story by Friedrich de la Motte Fouqué (1777-1843)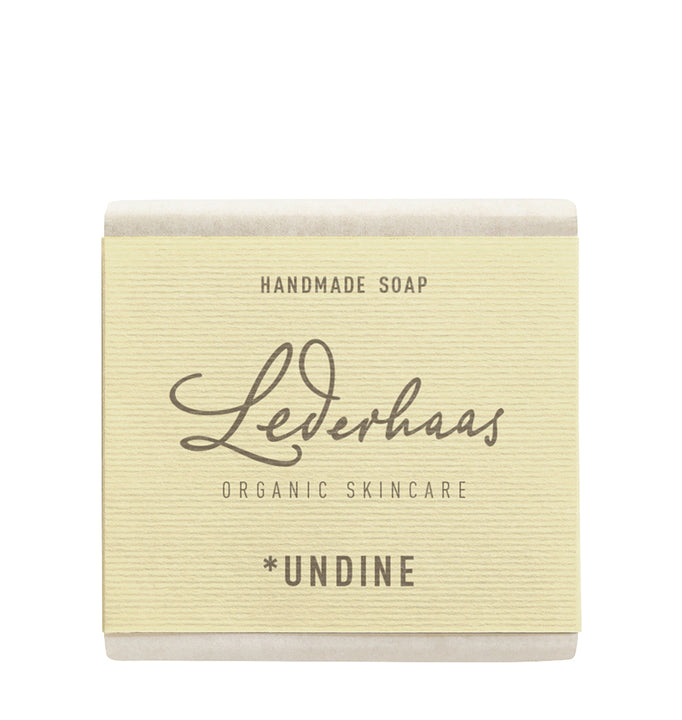 Shower soap for every skin type
especially for sensitive, sensitive skin
for mild washing, showering and bathing
for face, hands and body
mild cleansing
with 50% salt content
traditionally cold boiled
LEDERHAAS Art Edition – Collection 1800
The ART EDITION collections are created in the interplay of natural fragrances with the rich and evocative world of culture. The six vegetable soaps are based on the names and characteristic scents of novels and stories from around 1800. The thoughts, dreams and feelings revolve around a central theme: love.
UNDINE, by Friedrich de la Motte Fouqué

"…So my father, who is a powerful water prince in the Mediterranean Sea, wanted his only daughter to have a soul and that she should also endure many sufferings of the souled people. But a soul like us can only win through the most intimate union of love with one of your sex. Now I am inspired…"
Lather up the bar of soap with a little water and spread evenly over the skin; avoid the eyes on the face. Rinse thoroughly.
After use place the bar of soap on a dish with draining function or on a loofah soap cushion. This way the bar of soap stays dry, retains its consistency and fragrance and stays productive for weeks.
Sodium Chloride**, Sodium Cocoate**, Aqua, Sodium Olivate**, Sodium Shea-Butterate**, Sodium Castorate, Parfum (essential oils incl. Citral, Geraniol, Limonene, Linalool), Glycerin, Cocos Nucifera Oil*, Olea Europaea Fruit Oil*, Butyrospermum Parkii Butter*, Ricinus Communis Seed Oil*, Rosa Damascena Flower Extract*, Illite, Saccharum Officinarum Extract*, Ascorbyl Palmitate, Tocopherol, Sodium Phytate
* Raw materials from controlled organic cultivation
** based on certified organic raw materials
Vegan. With ingredients from controlled organic cultivation.
LEDERHAAS vegetable soaps are handmade and manufactured using the traditional cold-boiling process.