Vegetable soap for face and body
based on a story by Ludwig Tieck (1773-1853)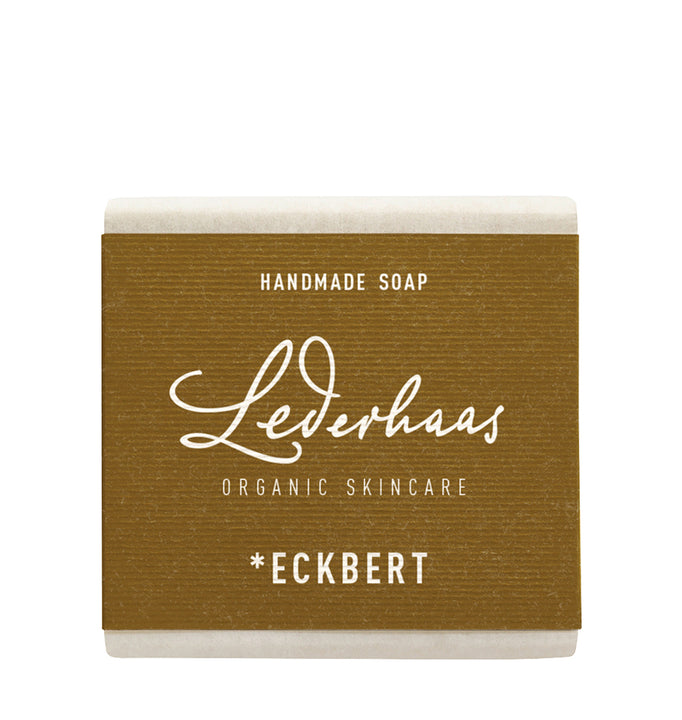 Shower soap for every skin type
especially for dry skin in need of care
for mild washing, showering and bathing
for face, hands and body
mild cleansing
Also suitable as a shaving soap for HIM and HER
traditionally cold boiled
LEDERHAAS Art Edition – Collection 1800
The ART EDITION collections are created in the interplay of natural fragrances with the rich and evocative world of culture. The six vegetable soaps are based on the names and characteristic scents of novels and stories from around 1800. The thoughts, dreams and feelings revolve around a central theme: love.
THE BLONDE ECKBERT, by Ludwig Tieck

"…Now night fell, and I chose a mossy spot to rest. I could not sleep; at night I heard the strangest sounds, now I took them for wild animals, now for the wind moaning through the rocks, now for strange birds. I prayed and I only fell asleep late towards morning..."
Lather up the bar of soap with a little water and spread evenly over the skin; avoid the eyes on the face. Rinse thoroughly.
For shaving, soften skin and (beard) hair with warm water. Lather up the soap, apply generously to the skin and hair and leave to take effect. Rinse off foam residue thoroughly after shaving and dry skin.
After use place the bar of soap on a dish with draining function or on a loofah soap cushion. This way the bar of soap stays dry, retains its consistency and fragrance and stays productive for weeks.
Sodium Olivate**, Aqua, Sodium Cocoate**, Sodium Shea Butterate**, Sodium Rapseedate**, Parfum (essential oils incl. Citral, Geraniol, Limonene, Linalool), Glycerin**, Illite, Olea Europaea Fruit Oil*, Cocos Nucifera Oil*, Butyrospermum Parkii Butter*, Canola Oil*, Myrtus Communis Leafs*, Betula Alba Leaf Extract*, Saccharum Officinarum Extract*, Soymilk Powder*, Ascorbyl Palmitate, Tocopherol, Sodium Chloride, Sodium Phytate.
* Raw materials from controlled organic cultivation
** based on certified organic raw materials
Vegan. With ingredients from controlled organic cultivation.
LEDERHAAS vegetable soaps are handmade and manufactured using the traditional cold-boiling process.